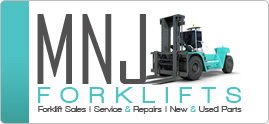 Welcome to MNJ Forklifts
Johannesburg based specialists MNJ Forklifts offer clients a variety of services specialising in the field of Diesel, Electric and Gas Forklifts. From Service and Repair with option of New or Used Parts, to Forklift Sales, the team at MNJ Forklifts continue to deliver exceeding value and great customer serivce on a daily basis.

The Forklifts specialists
No business makes money while their product sits still. For many years, MNJ Forklifts has made it our business to assist and educate our forklift customers on the best way to keep their products rolling. We have hundreds of customers forklifts that we successfully maintain, keeping their down time to a minimum and their operating costs at a minimum
Jacques Vorster invites you to experience, great service and quality customer care. Contact us today for more infomation.
PO Box 8289, Minnebron, Brakpan, 1549
+27 (0) 82 921 7278Cell:
+27 (0) 11 742 2481Telephone:
+27 (0) 11 742 2481FAX:
E-mail:
info@mnjforklifts.co.za